What's so-called "Dry Style Tea Brewing"?
Recently someone told me the "Dry style tea brewing" is in hype in China.  Even though I thought I knew what did she mean, but still I chose to verify it with tea friends in China.  I laughed when my friends said "the so-called dry style tea brewing is nothing new but a new name in the attempt to create market diversity".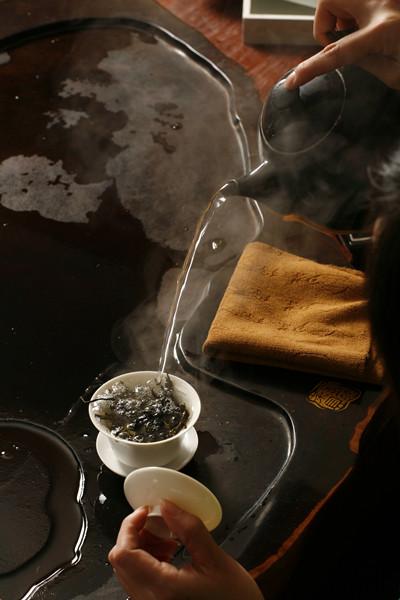 So what is the so-called "Dry style tea brewing"? How is it differed from the traditional Chinese tea ceremony?
It omits the step of pouring hot water over tea pot; the outside of tea pot remains dry
Not using the smelling cup. The use of smelling cup was developed by a group of tea professions in Taiwan abt. 1976, so the smelling cups was not used in the traditional Chaozho tea ceremony)
Simplified the brewing process, maintain calm and smooth in each step and keep the table setting clean and neat
It can be used to brew all six types of tea
The earliest description of Chinese tea arts (tea ceremony) could trace back to Han Dynasty.  Tea in Tang Dynasty was mainly being compressed to cake and tea varieties  started to expand in Soong Dynasty, steamed green and loose leaf tea were introduced and the formation of tea ceremony became more colorful and simpler. Six different tea types were complete and the steeping brewing methods began since the 14th century. Different brewing methods were introduced alone with the birth of new type of tea following the sequence of Green-> Yellow -> Dark -> Black -> White -> Oolong tea. Different brewing methods share common aims:
How to enjoy the authentic pure and fine flavor and taste
How to enhance the enlightenment in body & mind through the scent and the taste of tea.
How to facilitate the life-time learning attitude and life style from the moment of enjoying tea
It does not matter how do you normally manage the tea brewing, the learning of tea must go back to the basic point repeatedly:
Do you select the right quality?
Do you know when to drink what?
Do you know how to brew tea correctly?
Do you know how to drink tea correctly?
Do you know how to enjoy the moment of tea?
Whatever suit you the best on the particular moment, it is good tea.  Need not to be constrained by specific form or method.  Listen self carefully, listen to the sound of water and wind with an ease mind, connect the harmony in body, mind and energy in one.  Have fun and enjoy the moment with a cup of tea.