Every year when it comes close to the Chinese New Year, the memory of helping parents to prepare for the Chinese New Year when I was young brought back a lot of sentimental feeling and gratefulness.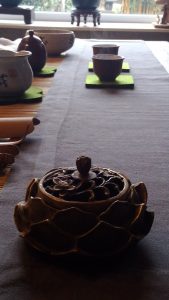 Put on a natural incense
Under a relaxing Chinese traditional music
Holding the thought of love and gratitude to my parents who are close in my heart to enjoy a pot of wild black tea from the birth place of my Dad, Hunan.
Even though they are no longer with me, but they are always in my heart, in my love and in every cup. My heart is pure as tea. the child-like innocent is still freshly alive in my heart that keeps me move on further.
One may not forget her/his root; the higher one wants to grow, the deeper the root much grow;
One may not forget who s/he is; because the greatest comfort in life must come from the inner peace;
One may not forget what made of her/him; the world is changing so as life, but one should always remember who s/he is;
One may not lose her/his own child innocent; the fountain of innocent bring peace and harmony till the last day in life.