When the world is changing fast and more unconsolidated information available on line, International political leaders are fighting the movement of globalization or protectionism, it does not matter what the outcome will be, let's face it no one can ever able to turn the wheel backwards. The gaps between rich and poor are enlarging, more medium class are falling down, the fear for future is mounting.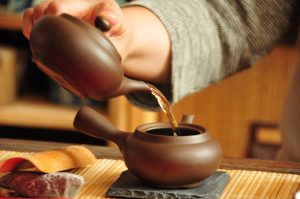 Who am I? What do I want? What can I do?…. our future actually is acting in front of us now. People have such little time not only with others but most importantly with the family/friends and, last but at least, her/him-self. Who can we talk to? Who are truly willing to listen and understand?…. It does not matter what kind of strong mask we put it on, we all have to deal with this emotional and psychological challenge when we look at the mirror in the evening
Weather we like it or not, we witness and even experience psychological bully here and there, even on media. The psychological tension is mounting in our society.
Honest and trust-worthy are such critical issues in either professional environment or personal life.
People easily stress-out or burn-out because having problem to find a good balance when they only have eyes to examine others but not able to reach the inner self.
Tea is more than just a cup of healthy beverage, but it is about meeting and embracing the reflecting of inner self with ease in a peaceful moment with pure and fine flavor and taste.
— Mei Lan Hsiao, Belgium Chinese Tea Arts Centre / Belgium Chinese Tea Culture Association, 29/11/2016