In the Doucha (鬥茶) of a tea sample that girl friend from Ivo's colleague brought who hoped I can give his girl friend a feed back about the quality, therefore the Doucha last night  did not mean to compete but simply tried to understand the unique characters of each tea.
The word of "Vintage Pu'erh" caught my attention, but quickly noticed an error on the package, because the British tea company put the tea type as "Black Tea " (Hong Cha 紅茶in Chinese), as matter of fact, Pu'erh, particular Shou Pu (Ripped Pu'erh) should be in the "Dark Tea" (Hei Cha 黑茶 in Chinese) tea type.
The Heap Fermentation process has long history, it meant to produce water and temperature through the respiration of the added strain, to destroy the chlorophll in tea
Shou Pu 熟普 was not exist before 1973.  Before that they called the aged Pu'erh as Chen Cha 陳茶.  The production process for Pu'erh was very simple before the 70's, Withering-> Solar Drying -> Steaming -> Compressing -> Drying.  The heap fermentation with cold water process actually was invented in 1958 by Liu Bao Cha 六堡茶 from Wuzhou, Guangxi.  But the heap fermentation of these two dark tea are different starting from the beginning:
The heap fermentation for Liubao tea is piling tea up during the production process
The heap fermentation for Shou Pu'erh is also using the piling up method after the production of Sheng Pu'erh
There are two types of Pu'erh, Sheng Pu 生普 and Shou Pu 熟普, because only Shou Pu uses the heap fermentation process, therefore, perhaps only Shou Pu really meets with Dark Tea.
According to the sticker, the original packed weight was 2,5gm, but actual weight I received is 1,5gm, therefore it means Ivo's colleague only used 1,0gm to make tea in +/- 320ml tea pot.  That explains the infusion time of 3-5 minutes.
last night performed #doucha 鬥茶 – small-leaf ripped pu'erh vintage grade。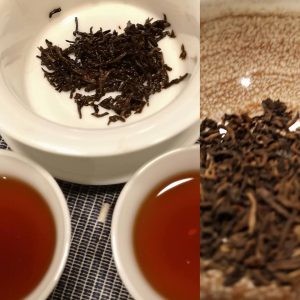 Vintage Pu'erh tea sample of Nxxxy
Flavor: obvious wet warehousing stinky aroma
Shape: tips are small, many broken leaves
Color: redish brown, problem with clarity
Taste: soft sweet but flat
After taste: not sufficient, weak Qi
Nxxxy mistaken the tea type as "Black Tea", actually tea type for ripped Pu'erh is Dark Tea in English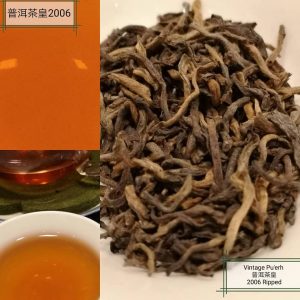 2006 #puerhchahuang #普洱茶皇
Flavors: dried aging, woody with ripped fluity flavors
Shape: fatty tips, broken leaves are much less
Color: Rich Amber, good clarity
Taste: gentle sweet, full mouth of taste notes
After taste: rather faste, sufficient after tastes, feel warm quickly with Qi
Each person has his or her unique preference in flavours and tastes, it is a matter of definning the meaning for what define vintage quality and how individual choice differ from each others. So what is your choice?