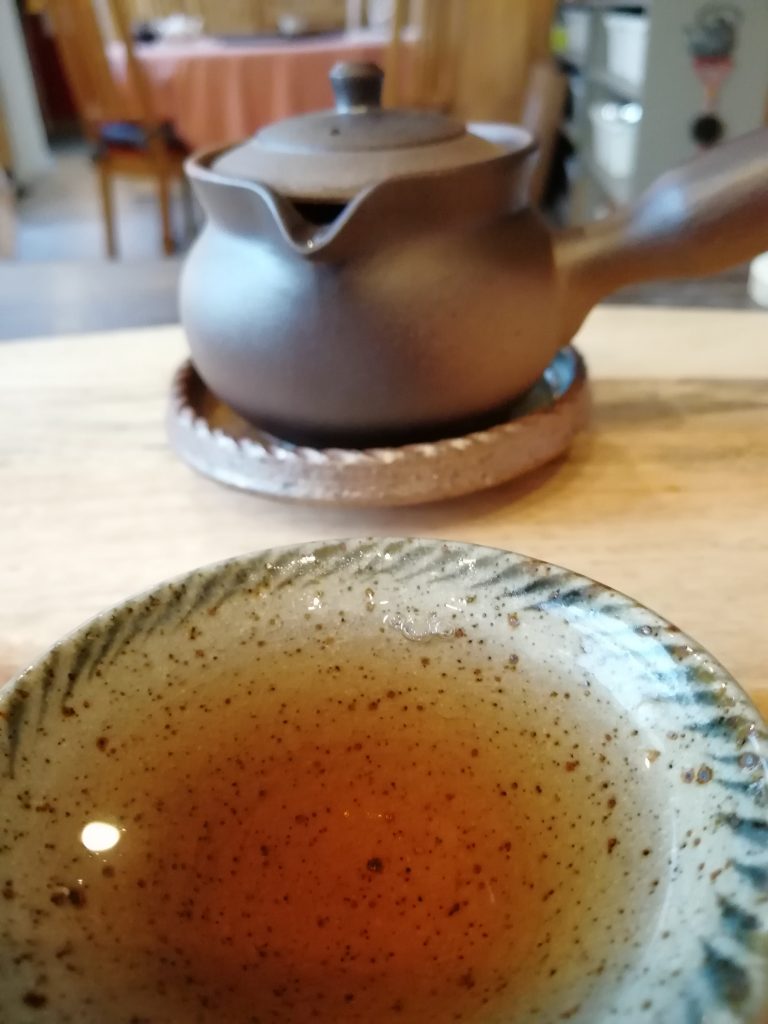 I have been doing my best to promote tea and Chinese tea culture in Belgium since 1995, I can't complain and say that I haven't achieved a lot, because my efforts were noticed by the local government that I could have opportunities to participate intercultural activities organized by them; also my intention to promote the old traditional Chinese tea culture that we preserved in Taiwan has been recognized by the Taipei Office in Belgium and EU. My migration story is kept in the Red Star Line Museum. Currently I have a "Tea Talk" column on the local Chinese newspaper and I am posting my daily learning on my blog so I can leave something behind about my learning journey…. I am doing everything as much as I can.
Frankly speaking, I have indeed thought about having a tea shop, but it has been very difficult to find someone who actually shares the same values and passion for tea. For me, tea is more than a business but it's a social as well as cultural ethnic responsibility to promote pure and authentic quality tea. I am too trying to find the right solutions to promote quality tea via internet, for example a webshop. With limited of resource under the current low economic curve environment, it is important for me to be realistic of finding some pragmatic online marketing approach that can maximize the return of investment. And, it is another challenging learning ahead.
Continued learning has always been the primary attitude that I have for every job in the past, certainly it has even higher demands in tea and Chinese tea culture. So I have to manage different planning for marketing, culture promotion activities; cooperation with local partners and tea farmers/makers in China and Taiwan; carefully update the quality evaluation and constantly practice of Chinese tea ceremony in order to deepen the understanding the essence in our culture. Not to forget to manage the office administration and household…..In short, I am a crazy woman who is devoted to tea and Chinese tea culture; I am a story teller for tea. Sometime I feel tire, frustration and even stress, but I only give in for few minutes, after having a cup of tea, keep my head up and continue my efforts again.
Few days ago, a friend asked "Can I buy Taiwanese tea from you?" I replied "Of course". But somehow I would feel more relax if people could have an opportunity to taste the tea, know more about the tea that s/he would like to purchase and know how to brew tea at home afterwards. Because I truly believe my responsibilities are not limited to sell or to promote tea, but are helping people to have better understanding about tea, knowing how to brew tea correctly so s/he can enjoy the benefits from tea in their daily life. Tea and Chinese tea culture are not just a simple business model that standard calculation of ROI, but it is something I must take the social and cultural responsibilities seriously.
That's why some of my friends joked and said I am just like a prodigal girl who spends a lot of money on quality tea and tries to promote the Chinese tea culture without considering the profit gaining in Europe. But for me, this is something that I can do and I think I should do my best. When following my heart and doing my best, I am not just promoting quality tea and Chinese tea culture, but also it gives me a chance to know myself better that I can indirectly reciprocate the upbringing from my parents. Also I hope I can establish a good example for my children.
Belgium Chinese Tea Arts Centre in an unique center for tea and Chinese tea culture, we offer tea lovers :
A home-like comfortable and cozy environment where people can taste various fine quality tea and enjoy reading
A calm and serene space for individual and/or small group of people to learn tea and Chinese tea ceremony
A reliable tea room where you can purchase the pure and authentic quality tea from Taiwan and China
Reservation in advance is needed.  For more information please contact Mei Lan Hsiao via email: info@chinesetea.be  or telephone +32494506899